Jessica Danyluk is an exercise physiologist with Dr. Nicole Culos-Reed's lab and they are recruiting for their exercise study for men on ADT treatment for prostate cancer.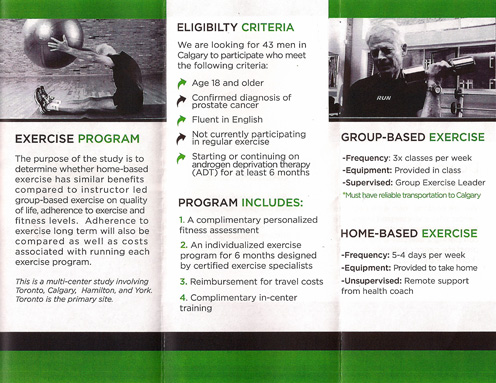 This is a randomized control trial (RCT) comparing 2 exercise programs for prostate cancer patients on ADT (hormone therapy) .
The purpose of the study is to determine whether home-based exercise has similar benefits compared to instructor led group-based exercise on quality of life, adherence to exercise and fitness levels.
Eligibility Criteria
Age 18 and older; Confirmed diagnosis of prostate cancer; Fluent in English; Not currently participating in regular exercise; Starting or continuing on androgen deprivation therapy (ADT) for at least 6 months.

Contact Study Coordinator:
Jessica Danyluk, MKin, CSEP-CEP
T: 403-210-8482
E: jmdanylu@ucalgary.ca
To read the full brochure, click here.